1.5*5.7m wet ball mill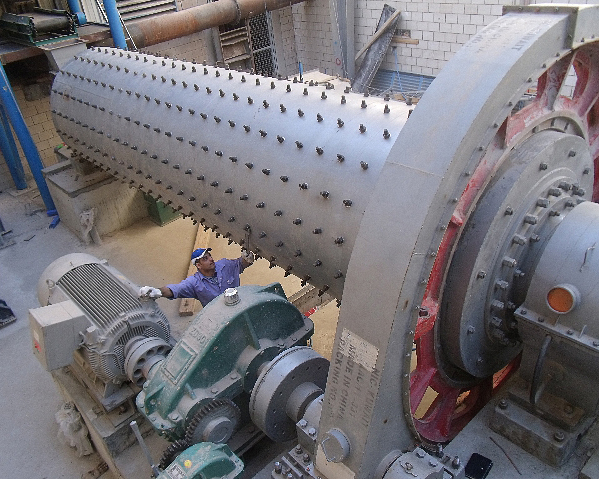 1.5*5.7m wet ball mill is used in thegrinding of metallurgy, chemical, electric power and other industries. Thematerials that can be processed are limestone, zircon and barite.
1.5*5.7m wet ball mill work principle
The motor drives the cylinder to rotatethrough the deceleration device. The crushed ore and the steel ball of thecylinder are subjected to friction and centrifugal force during the rotation ofthe cylinder. After being brought to a certain height by the lining plate, thegravity is thrown and plunged, and the ore is in the ore. It is graduallycrushed under the action of impact and grinding. The crushed ore is dischargedout of the cylinder through the discharge portion. After the dischargedminerals are classified into qualified products in a spiral classifier, thecoarse sand is returned to the ball mill through the combined feeder andcontinues to be ground. The feeder feeds continuously and evenly, and the oreenters the ball mill continuously and uniformly through the combined feeder,and the ground material is continuously discharged from the ball mill. The ballmill is a grinding machine that can work continuously 24 hours a day.
1.5*5.7m wet ball mill parameters
The 1.5m*5.7m cylinder rotation speed is28r/min, the ball loading is 12t, the feed size is ≤25, thedischarge granularity is 0.075mm-0.4mm, and the output is 3.5t/h-6t/h. Themotor power is 130kw and the whole machine weighs 25.8t.
1.5*5.7m wet ball mill price
There are many domestic wet ball millequipment manufacturers. The level and process of different manufacturers'R&D and manufacturing are different, so the quotation is different. For the1.5*5.7m wet ball mill, the price of each has its own advantages. Themanufacturer's production strength is different, the geographical position isdifferent, and the manufacturing cost is different. Therefore, the quality ofthe tube mill equipment produced is different, so the price is different. Whenpurchasing, users should understand the performance, work efficiency,production capacity, etc. of the equipment, comprehensively consider its priceand its own investment cost planning, and then decide whether to purchase.
Users are advised to purchase from regular,large-scale crusher manufacturers. Such manufacturers are strong in strength,and the production process of the equipment is more stringent, and the qualityof the equipment produced is more secure. For users with insufficient funds,such manufacturers are more reasonable in formulating prices, and will not askfor price, so that users suffer losses.
Previous: Factors affecting the price of the ball mill